Heavy Camera Horizontal Rig

This rig is supported from a vehicle support (1) (out of frame) the (SS). The springs (2), bungee cord or exercise tubing (IS) isolates the vehicle movements from the camera system. The ring bearing and nylon cord connection system (3) (CS) connect the camera system to the isolation system (IS).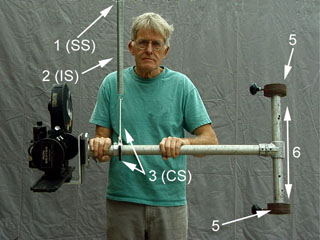 Here is where balancing every component about the pipe's center is important. Use the CG test rig to balance the camera and counterweights separately. (See Center of Gravity Test Rig)

The best balance adjustment devices for the camera are lightweight dovetails (4) strong enough that they can't flex under strain. Slots with screws work, but are harder to adjust. Once assembled the counterweights (5) can be moved (6) to adjust balance of the system, but only in one axis and when the balance becomes non-symmetrical with the horizontal pipe center, adjustments get much more difficult. It is best to make adjustments at the camera and keep the counter weight balance symmetrical.

For film cameras a shifting weight can compensate for film moving in the magazine. This can be adjusted between takes. The weight should move in line with the film supply and take up spindles and move opposite the direction the film moves in the magazine.

This sample has no provision for camera or video assist power or zoom control. I also show no handle in line with the horizontal pipe outside the camera. Putting a zoom control outside the camera in line with the CG and horizontal pipe works well.

This rig works well from a camera car. You should tell the camera car provider that you need to rig from some height above camera so he can provide the right hardware. Most camera car hardware is 2" OD tubing and you need a way to interface Speedrail © fittings and pipe to 2" OD tube. (See Pro Rigging Tech / Pipe, Tube and Conduit, also Pro Operating Tech / Camera Car Tricks)

This rig is of course too heavy to be supported by an operator's body and arms.

This type rig can be supported from a lumber type rack in a pickup or inside a large van with the doors removed. Many lumber racks are too low. Consider making a Speed Rail © rack. Tie it down well to the body of the truck.

© Copyright 1999-2004 Ron Dexter. All Rights Reserved.